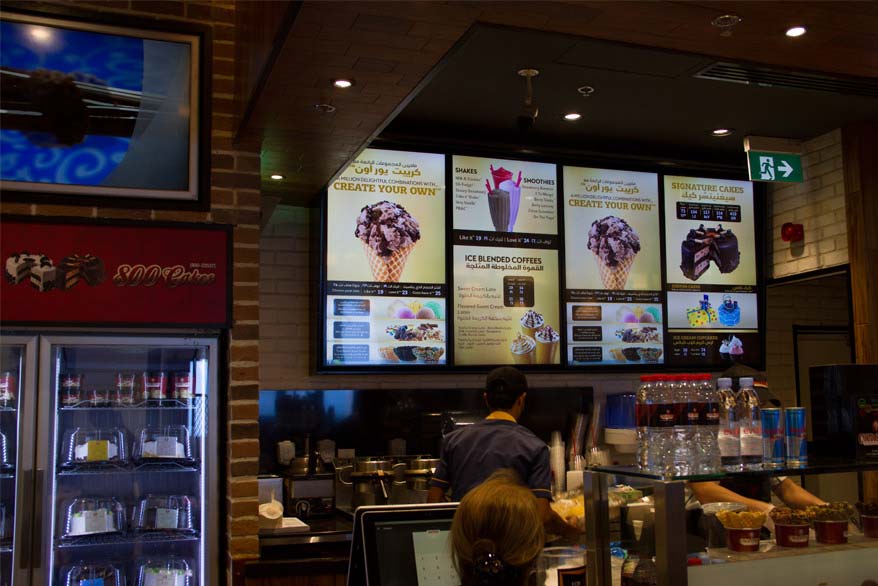 Digital signage for Food and Beverage industry - The story of UAE's largest food chain group.
Food and beverage industry has long been reaping benefits from digital signage screens. Menu boards, information displays, hot deals, KPI displays and many other purposes; the food and beverage industry endorsed digital signage displays more than any other sector did.
The Apparel Group, which is the parent organization of Middle East's well-known food and beverage brands like Cold Stone Creamery, Sbarro Pizza, Tim Hortons Café & Bake Shop is now running 270+ displays as menu boards, KPI displays, and Information displays.
The beginning
All it started with the request for a 14 days' free trial of Screendrive, from one of the Cold Stone Creamery outlets. The company was searching for an affordable and flexible digital signage CMS that can be operated without the help of a Techie. The solution also has to be compatible with their existing windows based infrastructures. The 14-days free trial was well enough for Cold Stone Creamery to understand the Screendrive.
Initially with four digital menu boards installation at Cold Stone Creamery located in Ajman, then to their other outlets and to their sister brands 'Tim Hortons' and 'Sbarro', the relationship grown faster and stronger ever since.
Objective
Initially, the prime objective was of digital menu boards, later with the change in technology and trend, more screens were introduced. The objective was to increase customer engagement via commercials/promotional contents, social feeds, news etc. Lately, KPI displays were also implemented for managerial staffs. Overall, the client uses digital signage for.
Digital menu boards
Entertainment/Promotional purpose
KPI displays
Content Strategy
The company uses the contents developed by internal designers as well as commercials and videos prepared externally. Since the client operates in multiple geographic locations, they have a complex content strategy adjusted to the local realities. According to the client, Screendrive's digital signage apps and Layout designer has been playing a pivotal role in their content deliveries.
Management
One of the important thing that attracted the client's attention was Screendrive's user management and outlet management feature. It enabled them to access and manage their entire branches and outlets from a single point. Moreover, easily accessible yet controlled distribution of contents and resources strengthened the coordination of their campaigns.
Conclusion
When we look back at our journey with Apparel group's food and beverage brands, we see a relationship developed through trust and quality service. "The quick response time and dedicated complaint redressal mechanisms of Screendrive never let us down, in fact, the team has been there whenever we needed, with their technical expertise and functional insights" - The feedback given by the client while choosing their 200th screen was a good acclamation for our efforts
The company was able to utilize the full potential of digital signage with their up to date approaches. Quality contents a accompanied by effective management has delivered results beyond their expectations.
We share our immense happiness and gratitude for getting the chance to be the digital signage partner of Apparel group's food and beverage sector.