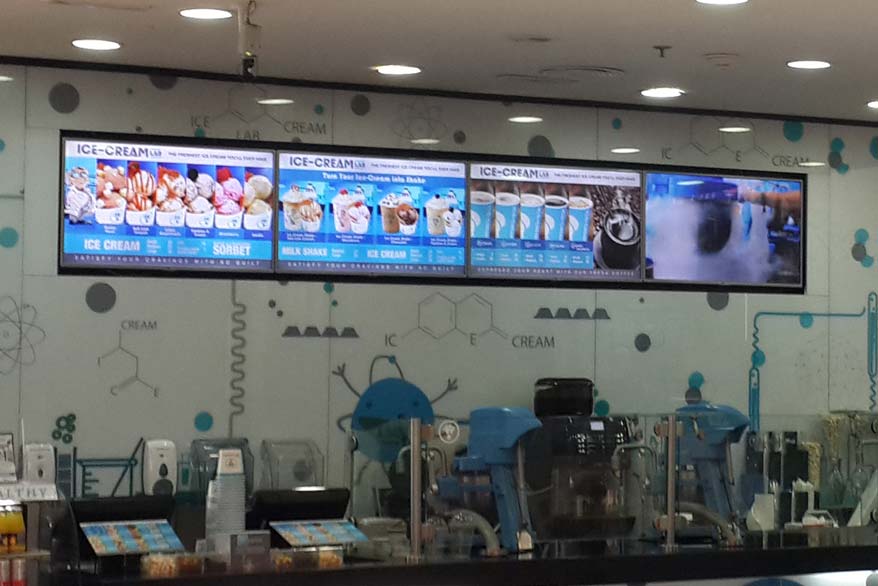 How restaurants can use digital display menu more informative
How many times have you wondered about what to eat while walking to a restaurant? The menu card leaves you in a baffled state of mind and you end up choosing a bad item on the list. To tide over this predicament restaurants in UAE, as well as other parts of the globe have been deploying digital display boards to better serve their customers. A digital display menu board that displays the sumptuous dishes your restaurant provides can help you to reach out your customers more efficiently. The benefits that accrue are so wide that it ranges from time management to better customer relations
Digital Menu Boards - A proven branding Strategy
All the world renowned fast food chains like Starbucks, Mc Donald's ,KFCs across UAE and other parts of the world have been using this strategy of digital menu boards for a long time and the result is evident before us. They were able to brand them and penetrate so much into the market by leveraging on such novel methods. Digital boards at restaurants can be put for multi purpose use like reaching out to customers to inform them about special offers and combos or can be customised to have a number of pages to fit the wide variety of dishes in different segments your restaurant provides for.
Reflect your customer's perspective
Customers who are budget conscious find these digital menu cards more comfortable and handy as they can choose their item which corresponds to their budget without going through the whole menu card. The digital display boards can be made more comprehensive by listing out the items, the various accompaniments and add on choices to ease the bafflement of customers while choosing an item on the menu. It is surely going to fetch you rich dividends as happy and satisfied customers are key to the success of any business you put hands on.
Dynamic menu and Ease of transactions
Digital menu boards also give you plenty of room to make changes. Say for example, an item on the list has to be omitted or added. While if you are using a conventional menu card you have no choice other than to ditch the old and print a new one. On the other hand, a digital display board ensures that you can make necessary changes any number of times at your convenience
Special display kiosks can be provided for customers to check the availability and price of a particular dish and order it through the token system thereby saving both time and space.
Screendrive , one of the leading digital signage providers in the Middle East has been providing digital menu board and signage solutions to restaurants, coffee shop and eateries for more than a decade. Our power full digital signage CMS has been the backbone of many digital menu displays that you might have come across in UAE and other middle east countries . See more here on how we are changing the digital signage industry here..